Hey guys!Alright so, guys i have a problem. Well, more like an addiction . And, that is shopping! Yes, i have a pretty huge shopping addiction! I know, but i cant help it!
So todays post is going to be on this years major Spring and Summer must haves and wants. And for me.. that's quite a lot! So lets get started!
The first one is a floral body con skirt!

These are just a few of the ones i have been eyeing lately.
Number 1 is from Topshop.com $45.00
Number 2 is from Wetseal.com $12.50
The one from WEtseal is my absolute favorite. I actuallu just placed an order for it on the website, along with a couple other items.
Another thing that i have been really wanting for spring lately is, wedges! If you have been following me for a while, you know that i have a post all about wedges! That is actually gonna be a spring staple of mine!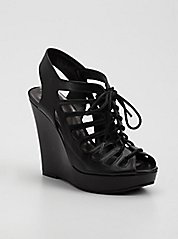 URSY (on sale right now!) Sale Price; $86.98 Original Price;$110
These wedges are from GUESS and they are super cute. I love how they lace up and the style of them is just something i really like! I actually think that these would be perfect for just a nice warm casual spring or summer day. And, cause they are wedges, very comforting for almost any activity and they are only just 4 inches!! They are a little pricey, but i personally think that shoes are something to invest in. It's something i always find myself buying and getting good uses from them. They are also on sale right now on the website, im not sure how long there gonna be on sale, but i would hurry and grab them!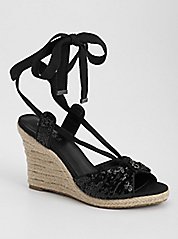 DYANNE $49.95 Original price: $90.00
These are super cute and classy. I love how they wrap arond a little! Like, you dont know how in love i am with wrap around shoes! I think they are super cute and this style is perfect for a spring day. Nice casula color, not too overpowering and the heel is only 3 3/4 inches! So perfect for a day at the park or if you are on your feet. Good price too!
I have also really been wanting a nice pink lip!
MAC Viva Glam Nicki $14.50
I have really been eyeing this lately. This is the Viva Glam Nicki from MAC.
Now, im not really into lipstick. AT ALL. I really hate the feeling it has on my lips so i typically go for lipstains or a super pigmented gloss! But, this oh my goodness! I really love Nicki Minaj and when i heard she was gonna team up with MAC, i got excited. So, im really thinking about this! I've looked up swatches of it online and also, i have seen people wear it and it looks super pretty!
Now, call me Nicki Minaj crazy here, but i am in love with Nicki's nail polish collection. I love every single color!
Colors from left to right: Did It On Em', Fly, Save Me, Matallic 4 Life, Pink Friday, Super Bass
All of these colors are beautiful! Can you believe that i dont have not one color yet?? Crazy! Everybody else has at least one color, but, For me spring break is this coming week, Our last day is tomorrow and its early out so im supposed to be going with some friends to the mall tomorrow to get a couple outfits to start off my spring break and if i see this i will for sure pick it up! Im excited to try Pink Friday, Fly, and Save Me. Also, im super happy for Did It on Em' just cause its such an ugly color that its cute! Lol, wierd!
Oh ,and just a shout out to Nicki for all her teaming up and collaborations with companies lately! She is on a roll. First OPI and then MAC!
What is on your spring wants and must haves list ?